Up to 3 Hour Fire Rating.
Baked on Powder Coat Finish.
Energy Efficiency
Steel is an excellent conductor of heat and cold. Regardless of how well a conventional steel door is insulated, conducted heat loss still occurs and money, in the form of higher heating bills, is lost along with it. These doors have a Patented Thermo Break System that stops conducted heat loss cold! Here's how:
Our two heavy steel outer panels are locked together by a vinyl V groove interlocking system providing a positive thermal break. The panels never come in direct contact so cold or heat can't be conducted through the door. Between the two panels, immovably bonded to all inner facings, is a rigid featherweight insulation with a density of 2.5 to 3.0 Ibs/cubic foot providing an R factor of 13.5.
Security
Our doors lock out more than just the weather. Our steel doors are a thief's worst nightmare. Our outer panels are 22 gauge steel, cold rolled for flatness and stability, held together by a 14 gauge stabilizing member that is surrounded by a vinyl extrusion (that's the thermal break, remember). The hinge locations on the steel frame are reinforced with heavy duty 11 gauge steel plates and the hinge screws are locked into steel at both frame and door locations. When combined with a deadbolt lock, these doors are virtually burglar proof.
Durability
The metal outer panels on most steel doors are simply glued to a thin interior frame. Our steel doors are held together by a V-Groove interlock system that locks both steel panels in place. There is no glue to delaminate. Our doors, under normal use, will never come apart – we guarantee it! Before you spend money on new steel entry doors, talk to the people who have brought steel door technology to new heights.
A Unique Steel Replacement Frame for Extra Strength
In addition to the standard wood frame prehung door, we now offer a unique steel replacement frame. This system is ideal for renovating existing worn out wood entrance doors.
Now you can have your Steel Door custom fitted to your existing frame while covering up marred or off-square openings. The system also includes deadbolt protection to further enhance the security and strength provided by the steel frame which is reinforced with heavy gauge plates at hinge locations.
Width
(Nominal)
Cover Openings
32″
34″
36″
31 3/4″ – 32 1/4″
33 3/4″ – 34 1/4″
35 3/4″ – 36 1/4″
Height
(Nominal)
Cover Openings
80″
82″
84″
79 3/4″ – 80 1/8″
81 3/4″ – 82 1/8″
83 3/4″ – 84 1/8″
Prehung Wood Frame System
Outside Frame Dimensions


Above based on 32″ (813 mm) door. Add 2″ (51 mm) for 34″ (862 mm) doors. Add 4″ (102 mm) for 36″ (914 mm) doors.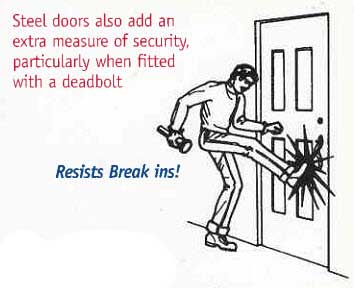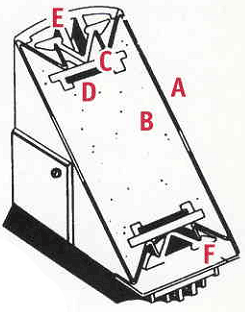 Unique Specification
Heavy gauge panels of 22 gauge cold-rolled steel for lifelong flatness and stability. Zinc- coated, bonderized and pre-primed, ready for your choice of finish.
Rigid, featherlight insulating core of foamed-in- place polyurethane immovably bonded to all inside facings.
Returned facing panels locked in place with a rigid vinyl extrusion to provide positive thermal break. * Patented Thermo Break System
14 gauge galvanized steel stabilizing member.
Snap-in extruded vinyl edge cap.
Sill sweep seals onto the extruded aluminum threshold with built-in thermal break.
Hardware and Accessories
4′ x 4″ brass plated steel roller bearing hinges.
Preparation for standard locksets.
Weatherstripping.
Complete installation materials in steel frame kit.
NOTE: Locking hardware not included.
Options
20 gauge six panel steel skins
Available in standard colours.
Contact us for a free in house estimate.